Skip to Content
Learn the Rules & Technique of Sport Karate in Lansdowne, PA
While karate began as an ancient form of fighting and defending oneself from danger, in modern times it has transitioned into a competitive sport. You can still find the art being taught as a method of self-defense, but many individuals enjoy the competition aspect of karate, especially children and teenagers. At Daniel Pope Karate, we teach a separate class in Lansdowne, PA for sport karate that focuses not only on the proper moves and techniques but also on the rules and scoring system used in the sport. If you're interested in learning more about this style of karate, either for yourself or your child, our staff is here to answer any questions you have. Please feel free to call us any time during our opening hours.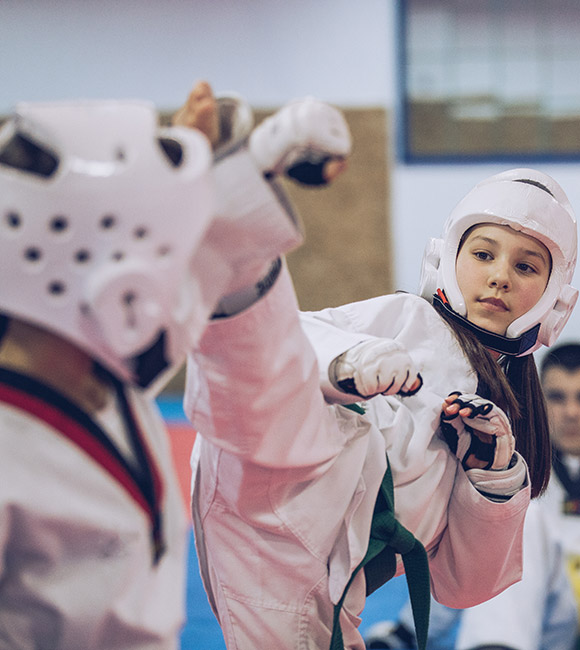 Sport Karate: How It Works
The sport of karate is divided into many different style organizations, most of which hold tournaments both locally and globally. Each tournament is separated into categories based on age, rank, and sex to ensure that competitors of similar strength and skill levels are matched up and the fight is fair. During a karate tournament, two competitors face each other on an eight-meter by eight-meter square, where they use their karate skills to combat one another and earn points. Point values of one, two, and three are awarded based on the complexity of the skill used and the area of the body targeted. The competitor with the most points at the end of the match wins, or the match is called when one competitor gains an eight-point advantage. Scoring areas include the following:
Head
Face
Neck
Chest
Abdomen
Side
Back
Discover a New Sports Activity
Are you interested in enrolling your child in a sports activity? Have you practiced karate for years and are interested in participating in a tournament? If so, Daniel Pope Karate is here to provide the training needed. Our sport karate classes teach advanced karate skills, as well as the techniques for excelling in competition karate. Students will learn the scoring methods and rules, as well as strategies for facing and defeating opponents on the mat. Enroll in our sport karate program in Lansdowne or Springfield, PA today and let us help you reach your goals.
Contact Daniel Pope Karate to Start Your Classes Today!