Skip to Content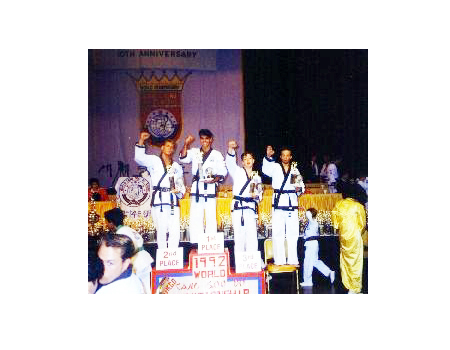 1984-1992 Member of the World Tang Soo Do Association (WTSDA)
In four WTSDA International Karate Championships 1986, 1988, 1990, 1992, Daniel Pope won 6 gold and 3 silver medals.
In 1991, Master Pope won the coveted Region 8 Cup for the Region's (PA, NJ, Delaware, NY, Virginia, Maryland) Best All Around Champion.
United Martial Arts Referee Association (UMARA)
In open tri-state (Greater Philadelphia region) competition, Daniel Pope was ranked #1 lightweight 1993-94-95, and in that time won six fighting Grand Championships.
North American Sport Karate Association (NASKA) National Competition 1993-1995
Master Pope toured the country, attending 32 tournaments in two years, including events in Boston – Rhode Island – New York – Philadelphia – New Jersey – Delaware – Maryland – Washington, D.C. – Virginia – Detroit – Denver – San Diego taking home many 1st place finishes. At the end of this vigorous schedule, Daniel Pope ranked #3 in the nation in Korean Forms, and ranked in the top 5 in the Super Lightweight Sparring NASKA North American standings.
Other Competitive Awards
Grand Champion Winner or Finalist in over 60 tri-state Black Belt Karate competitions Forms – Sparring
Over 100 First Place Finishes
2014 – Philadelphia Historic Martial Arts Society Hall of Fame
2009 Delaware County Chamber of Commerce Business Man Of The Year
2008 News Of Delaware County Readers Choice Award Best Martial Arts School, Delaware County
2004 Athlete of the Year – Abundant Life Fellowship Church
1998 – NBL Semi-contact kickboxing middleweight champion.
1995 Semi-Contact Kickboxing Diamond Ring Lightweight Champion – Greater Philadelphia region. Sponsored by Upper Darby Kickboxing/Boxing Gym, Delaware County, Pennsylvania. Competition consisted of four tournaments throughout 1995. Daniel Pope won all six of his matches unanimously.
1994 – Philadelphia National Karate Team – Most Outstanding Competitor.
1982 Distinguished Service Scholarship Award presented by Temple University Karate Club, Philadelphia, Pennsylvania.
Media Experience
Daniel Pope has been featured in the following media outlets in Delaware County and Philadelphia, Pennsylvania:
TV
AM Philadelphia
Channel 6
Comcast Sports Net
CN8 Newsmakers
Channel 17 News at 10
PHL17 – Eye Opener
Delaware Valley Forum
Magazines
Karate Illustrated
Blackbelt Magazine
Sport Karate News
Asian World Martial Arts Catalogue
Newspapers
Philadelphia Inquirer
Delaware County Daily Times
News of Delaware County
Town Talk
Springfield Press
Drexel Hill Press
Haverford Press
Jackson Hole Daily, WY
Radio
WOGL 98.1 FM
Power 99 FM
Big Talker 1210 AM
Contact Daniel Pope Karate to Start Your Classes Today!